At Gasket Engineering we are proud to produce the highest quality custom rubber gaskets in the industry. We are the one-stop-shop for converting rubber gasket material in exactly the manner you need it.  With over 60 years of experience, our trained professionals provide a wide array of custom rubber gaskets that are designed to fit a variety of needs. Fire retardancy, sound absorption, chemical resistance, insulating and temperature resilience are just a few of the rubber gasket material needs of our customers. Gasket Engineering deals with several different high temp rubber gasket materials and rubber gasket seals that include: EPDM, neoprene and silicone.
What Type of Rubber Gasket Seal Do You Need?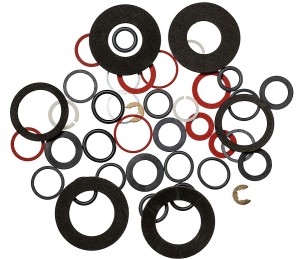 We can manufacture your custom rubber gaskets and custom rubber gasket seals for your niche industry. We have serviced the industrial, heavy equipment, energy, aerospace, marine, automotive, alternative energy, electronics and medical industries. With over 60 years of experience, we can handle any custom rubber gasket manufacturing project.
A rubber gasket is a tightly sealing product that prevents leakage by filling the space between two or more surfaces during compressions. Here at Gasket Engineering, we manufacture custom rubber gaskets and custom rubber seals using a multitude of rubber gasket materials that include: EPDM, Neoprene®, Silicone, Nitrile (Buna-N), Viton®, Santoprene™ Thermoplastic Vulcanizates, Pure Gum, Hypalon®, Butyl, Cloth-Inserted and AMS and Military Specs. Gasket Engineering procures standard commercial grade materials as well as specification grade materials that meet FDA and ASTM requirements. Through our high-quality supplier relationships and broad range of converting equipment, we can offer custom compounds to reach exact high-performance applications using a variety of different rubber gasket materials in a wide variety of formats.
Types of Custom Rubber Gaskets
Gasket Engineering manufactures your custom rubber gaskets and custom rubber seals, considering your exact specifications with particular rubber gasket materials that meet your exact specifications. We ensure you will receive the highest quality grade custom rubber gasket.
Custom AMS, ASTM, and Military Specs Rubber Gaskets and Custom AMS, ASTM, and Military Specs Rubber Seals
Gasket Engineering has serviced industries such as industrial, heavy equipment, energy and automotive. We have experience with products such rubber tail light gaskets, electronics and many more using a variety of rubber materials. We are an industry leader in die cutting and dieless cutting, specializing in flatbed and rotary die-cut parts for a wide variety of economic sectors from energy to aerospace to automotive. Learn more about our capabilities .
In dealing with electronics, we have utilized rubber and silicones; we can supply materials for electronics, general industrial, metal industry, plastic industry and telecommunications. We know small products require high tolerances, innovative materials and complex multi-layered parts.
Let the highly skilled professionals at Gasket Engineer select the appropriate gasket material for your manufacturing job. Contact us today or head to our request a quote page and fill out a form. We look forward to manufacturing your next custom gasket!
Custom rubber gaskets not what you were searching for? Visit our materials page for more information on our other custom gasket materials:
Gasket Engineering continues to be a leader in the converting industry for over half a century. Our season team of experts are highly-skilled in manufacturing materials and the production processes. We have one of the widest ranges of converting capabilities available and our quality management systems meet very stringent standards. Gasket Engineering is proud of our high-standard customer service and our partnerships with several of the top names in rubber gasket materials and rubber seal materials:

Amorim
Armacell®
Garlock®
InterFace
Thermoseal®