Gasket Engineering Named One of Only Six Trelleborg Master Fabricators In the U.S.A.
Gasket Engineering Company has been a Trelleborg converter for many years, processes Trelleborg seals and is one of only six companies in the United States to be given the designation 'Master Fabricators' by the engineered polymer solutions giant.  The Trelleborg Group is based in Germany, is a global leader in a wide variety of engineered coated fabrics, and established this elite group will help the company innovate with new ideas for Trelleborg seals, Trelleborg gaskets and a whole host of Trelleborg sealing solutions.  This Trelleborg converter will contribute to fulfilling the Trelleborg Master Fabricator Program's mission of driving engineered coated fabrics innovation forward and enhancing the supply chain.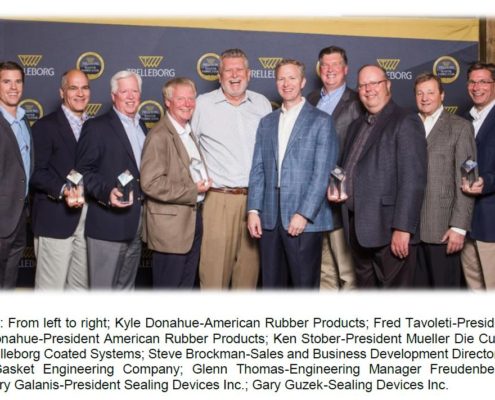 Trelleborg Converter of Custom Trelleborg Gaskets
&

Seals
Gasket Engineering Company was hand selected by The Trelleborg Group based on a variety of factors, including innovation and leadership in its respective markets as a Trelleborg converter, annual sales volume and growth of Trelleborg seals and Trelleborg gaskets, history with The Trelleborg Group, research capabilities for a wide variety of Trelleborg sealing solutions and overall desire to collaborate to fuel growth.
How Does Being A Master Fabricator Help Our Customers?