Since 1942, Gasket Engineering has been an industry leader in die cutting and dieless cutting alike, with a specialization in flat bed and rotary die-cut parts for a wide variety of economic sectors ranging from automotive to aerospace. A third generation family-owned company, we've attained an unparalleled level of expertise in producing tail light gaskets and headlight gaskets for OEM and aftermarket suppliers alike.
State Of The Art Manufacturing Facility
We have an in-depth understanding of the needs of the automotive industry and it shows in every headlight gasket we produce at our state of the art manufacturing facility in Kansas City. We pride ourselves on our fast turnaround and unwavering dedication to providing our customers with the very highest quality materials and the best possible finished product.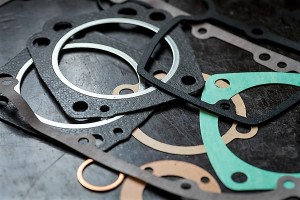 Our capabilities go far beyond producing tail light gaskets and we're constantly upgrading our facilities with the latest technologies to create the highest quality headlight gasket and tail light gaskets available anywhere. Our facility uses ISO-9001 technologies backed by a team of highly trained specialists with the expertise our customers have come to depend on over the last seven decades.
We can produce custom tail light gaskets or a headlight gasket in any size you require and in a wide range of MVS 302-compliant materials. All of the materials we use also meet all of the applicable standards for toxicity and smoke in occupied areas; we can also create an adhesive headlight gasket or tail light gaskets which meet the needs of your manufacturing application, whether you require gaskets for manual installation or an automated process.
Custom Headlight & Tail Light Gaskets
We're here to assist you with all of your automotive gasket needs. Whether you need rubber tail light gaskets, compressed sheet gaskets or vegetable fiber or cork gaskets for various applications, Gasket Engineering is ready to get the job done for you. Have unique automotive gasket needs? Contact us to talk about a custom gasket solution that provides you with the ideal fit for your application, no matter what it is. To find out why Gasket Engineering has become one of the world's foremost custom die cutters and learn more about what we can offer your company, please contact us today.